Free Press Release Distribution Service. PressNote is an Online Press Release Distribution and Press Release Submission Services.
TSA agent single-handedly causes epic backup at JFK
TSA goof causes epic backup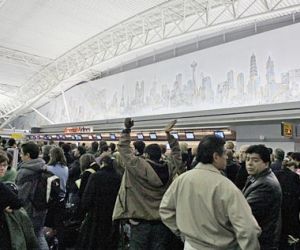 A lone TSA agent created all kinds of havoc at JFK Airport Saturday morning when he failed to notice that his metal detector was unplugged. Not only did Terminal 7 have to be evacuated, but the dimwitted mistake resulted in hours of delay as pissed-off passengers had to return and go through security screening again. Two jumbo jets were forced to return to their gates, and those passengers also had to be rescreened by a detector that was actually plugged in. Making the whole boondoggle even scarier was that no one could be certain every passenger who went through the dead detector had been accounted for and hadn't gotten on a flight.
Comments
Related Articles
No related news articles.